6 month baby is not laughing...
If your worried that your child isn't hitting the milestones at a certain age your child could just be a late bloomer. As long as your baby can smile and interacts with you there shouldn't be a big concern.
How your child plays, learns, speaks, and acts offers important clues about your child's development. Check the milestones your child has reached and talk with your child's doctor at every visit about the milestones your child has reached and what to expect next.
Language/Communication:
Responds to sounds by making sounds
Strings vowels together when babbling ("ah," "eh," "oh") and likes taking turns with parent while making sounds
Responds to their own name
Makes sounds to show joy and displeasure
Begins to say consonant sounds (jabbering with "m," "b")
Moms Expertise
04/18/14
This is a great answer. I think I would just add that if a parent is worried, more direct-attention face time with baby would never hurt. :)
04/18/14
your 6 month old isnt laughing? maybe you just arent very funny XD
send the baby to my house. kado laughed 24/7 even if i just looked at him. i have a funny face! lol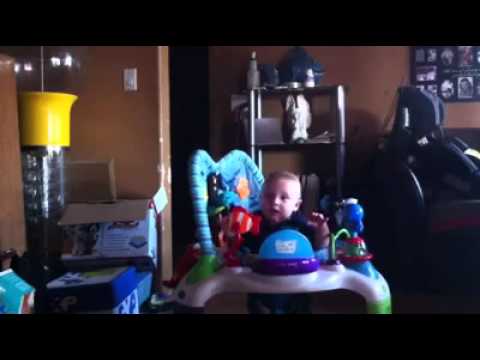 04/18/14
My daughter giggles a lot.
04/18/14
We have he same exersaucer!
04/18/14
LOL!! some people just arent funny XD
04/18/14
Great check list!
04/18/14
Thank you Theresa!
04/18/14
Totally. Great tips.. I would just think the baby is either super smart and bored with the normal baby talk stuff or the parents weren't funny.. lol
04/18/14
Thank you I agree, some babies learn ate different pace. I'm glad Selena can laugh and giggle.
About Lindsay
Birth: April 11
On Moms.com since: Dec 24, 2013
~Team Player (Baby)~ 32 years old, married. SAHM. I love my husband and daughter so much!
All
Recent Lindsay's Posts