Black nail polish for rainbow water marbling! Whoo!
I am quite a fan of black nail polish. Just took black off my fingers and toes today, actually. I've been a nail polish fiend since I was a little girl and always loved to collect the funky colors. I remember when I was maybe six or seven I got a pack for Christmas that had this weird 70's green in it... Loved that stuff, lol.
I wear black nail polish pretty frequently. Though recently I've really fallen for the Insta-Dry nail polish, black has always been a great go-to when I'm lazy. Got chipped nail polish? Don't have time to do a full manicure? Forget it, cover it in black. It'll cover any color so it just works.
Black is also a great color to have around for any sort of designs, especially polka dots! Just pour out a little black nail polish and stick a pencil eraser in it. Ta-da! Perfect polka dots on top any color.
Of course, it's also great for this water marble rainbow nail technique in this vid. I LOVE these nails and water marbling in general. It does take some trial and error to figure out which ones really work in the water though. Check it out!!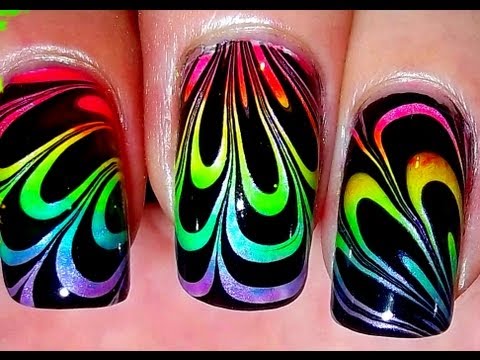 And Halloween! Love having black and orange nails... Halloween is one of my favorite holidays.
Do you like black nail polish?
Do you think you should be a certain age to wear it?
And... water marbling! Yay or nay?
Moms Expertise
06/07/14
I'm not very good at it, so yeah it takes a while lol. I think once I got the hang of it and didn't have to redo certain nails and knew which polishes work in water, it wouldn't take long.
06/07/14
That marbling is wild! I love it! I have never worn black polish but perhaps I should expand my boring horizons!
06/07/14
Do itttt! Post pics! :D :D
06/08/14
That looks awesome! I don't wear nail polish easier (mostly I'm just too lazy! lol!) but I'm always still impressed by an awesome nail job.
06/09/14
That's cool!! How do you do it?
06/08/14
Black I think is for the younger generation. Not women my age, although there are plenty of ladies that would disagree with me. I love the look of the water marbling! That's cool! I don't think there is a certain age. Very young little girls like to experiment with polish and I don't see that it hurts anything at all. Brings out a little of the creative style.
06/11/14
I'm part of a club where I get 2 polishes a month, I currently have almost 100 bottles.
06/11/14
What club is that?! I wanna be a member, haha!
06/24/14
Yep, Julep is the club, but I know ipsy has polish too!
07/22/14
I have been thinking about trying them out too. I am a bit of a nail polish addict, haha.
About Cassaundra Owens
Birth: February 13
On Moms.com since: Oct 11, 2013
I'm a little strange, pretty green, and learning to live life as a wife, future mother, and entrepreneur. Right now, my husband and I are trying for our first after 3.5 years of infertility and 2 losses. Viva la adventure! Join me too at MortalMommy.com!
All
Recent Cassaundra's Posts