Infant Car Seats
This is from the Boba FaceBook page. I have been hearin a lot lately about babies getting injured or near injured from the car seat being snapped in. I didn't know any better, don't know how many are in the same boat.
07/22/14
I couldn't really do that, though I've seen families do it. My husband is gone most of the time and I don't have anyone else here to go with me so I can't push two carts at once. Not to mention we always got a full cart of groceries so the set couldn't fit in the basket, either.
07/22/14
Lol nice! I would not have the patience for that at all >.<
07/22/14
LOL I do that with the stroller and the cart when I go to the local store. There were a few times I just didn't have the muscle to get up in the cart (I'm short) so I would kind of make a bed in the little seat.. I just use a carrier now.
07/22/14
Eh....that's how I did with Nina before she outgrew her little pumpkin seat like that. It was always stable on top and I never left her side. I was always right there and NO ONE was allowed to touch it. We were fine, and the carseat clicked on just fine. Plus, we didn't have a baby carrier, and the few times we borrowed one, both Nina and I hated it.
07/22/14
You know, that's what everyone did when my kids were babies. No one thought anything of it, it just made sense.

I can understand now, in retrospect, why it wasn't the best idea.
07/22/14
Everybody still does it now, at least here. I'm always seeing this around facebook and thought I'd share it here.
07/22/14
Everyone still does it here, too. Occasionally I see a family with one carseat up top and one in the cart pulling another behind >.<
07/22/14
I only wish I had that much help. I'm usually battling the toddlers to stay buckled while I have the baby in a carrier and pushing the cart.
07/22/14
>.< I'm glad Nina is cooperative during shopping times lol, she loves to sit and watch and "help" and babble lol...I'm sure it'll get way harder once she's older and we have another kid
07/22/14
My girls do great. My son is a typical male and can't stand more than twenty minutes. :) Hard when I shop for a month at a time which means hours of shopping.
07/22/14
LOL, so it's not just my son that can't stand for very long in the store? That's too funny.
07/22/14
I did it all the time too and as lucky to never have an accident. After my second was born, I saw a video similar to this one: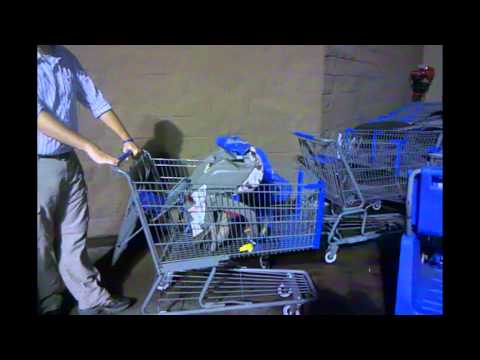 So Hayden never went on the top of the cart. It is so dangerous. Since then, I've also become a CPST (car seat tech) and learned even more. Putting an infant seat on top of the cart like that, you will likely hear it latch into place. BUT those latches are made for the base, not for a cart and latching them to a cart can cause damage to them - to the point where they may not hold in a collision! PLEASE don't put your infant carriers on top of a cart. Put them in a cart. If this means you have to take 3 trips instead of one, so be it - your child's life (and it can unfortunately be the difference between life and death) is much more important than an hour of your time ;)
07/22/14
I never ever thought it was okay to put a carseat on that part of your cart.. it's easy to see how top heavy it would be.. I typically put Monroe in his stroller while grocery shopping anyways. But thanks for sharing.. hoping it gives a heads up to someone who needs it!
07/29/14
I have never thought it was okay to keep a baby like that in a shopping cart.. you can completely tell how top heavy it will be.. thanks for reminding everyone!
About Tabitha
Current: Salem, South Dakota
Birth: January 28
On Moms.com since: Mar 29, 2014
*Pregnancy Team Player here at moms.com* I'm a stay at home mom to five and housewife. We are old fashioned it pretty much everything we do and still learning. Naturally-minded. Owner of the blog Stay at home Wife and Mom.
All
Recent Tabitha's Posts