Our calf keeps escaping so....
Hubby is out in the dark shoring up the electric fencing.
Here's another calf fix: Bambi Legs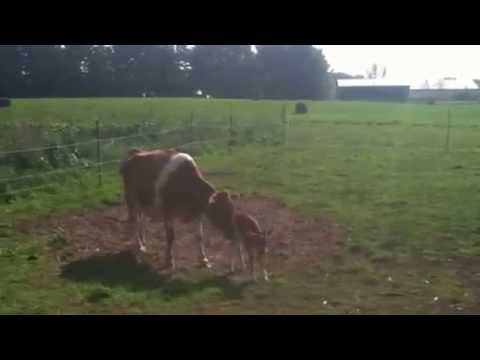 09/30/14
Aw! Babies animals and animals in general, I just adore. There were a pair of calves in a field behind the local park. They were so adorable. My hubby and I were walking and talking and I had to stop him for an "awe moment." Lol
09/30/14
I grew up on a farm and spent a lot of time around others and ranches so I am used to the smell of farms. My hubby and daughter reply, "They stink." The odor does not bother me, and I don't smell it.
09/30/14
It all depends on what is going on. For the most part unless there is a fresh pile of manure, our farm doesn't stink...UNLESS the chickens and turkeys do not get moved on schedule. THEN it really starts to smell.
09/30/14
BABY COW!!!!! How did I miss that there was a baby?

And how cute!!!
09/30/14
He was just born yesterday,
@Meliss
!
About Theresa Gould
Current: Chicago, Illinois
Birth: August 10
On Moms.com since: Aug 5, 2013
***Baby Team Leader Moms.com*** I have been married for over 20 years. My husband and I have eight children ages 18 down to 4 years old. We use to live in Chicago but now live in Canada. I own www.FaithandFamilyReviews.com.
All
Recent Theresa's Posts