Bottle question.
What age did you stop giving your child the bottle? My Son is 18 months and still drinks from a bottle. He does OK with a cup, but starts to play with it (blowing bubbles) after a few sips.
02/05/15
I think Mark was about this age when I went cold turkey and stopped the bottle.
02/05/15
I'm concerned he won't get enough fluids if I stop before he's proficient with the cup (i.e. NOT spilling)
02/05/15
yea, I stopped when Mark was using his cup very well
02/06/15
I exclusively breastfeed and only tried the bottle a couple times (because of medical reasons for me) but she didn't care for it.
We use a cup during meals or she sips from mine now and then but through out the day she has a sippy cup that she can chug her water and we don't have to worry about her spilling it.
02/07/15
I looked the wow cup up and saw this video of someone trying. Does it work well for your daughter?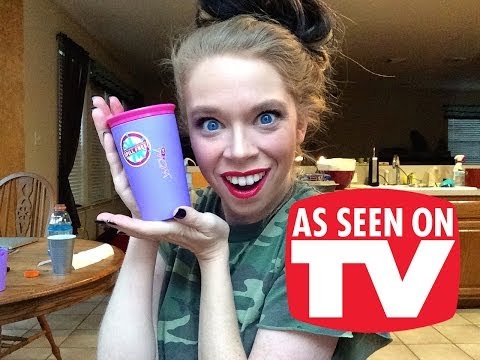 02/24/15
This video is hilarious
02/07/15
I stopped giving my daughter a bottle when I stopped feeding her formula, at 12 months. I'm probably going to do the same with my son, hes almost 6 months now. Then I had my daughter use sippy cups until she was old enough to consistently drink without spilling. But yea the day formula stopped I threw all her bottles out, no weening off of it for me, plus she already knew how to drink from a sippy cup, my son knows how to drink from one too so I may switch him earlier. Then move to regular cups when they can consistently drink without throwing their cup around or dropping it.
02/19/15
We stop giving him his bottle at 7 months old...we started at 6month transitioning him to sippy cup... It took him a month to start liking to use one
We stopped at 12 months. I highly recommend Nuby brand grow with me cups. They start as bottles then you can switch to the dippy cup spout it comes with and add the handles if you want. I use those for milk. We then use Nuby straw cups for water and juice and we also use some of the plastic dippy cups. We will be doing my the same thing with Elianna.
02/24/15
My 15 month is only allowed at night to have a bottle.
04/29/15
I stopped my oldest daughter cold turkey right after her first birthday, it was a little rough for a day or two, but after that she never looked for a bottle again.
About Jennifer Lucas
Current: San Mateo, California
Birth: September 12
On Moms.com since: Apr 6, 2014
I am a Christian, SAHM. We live in California. Married since 2011. Our Son (Benjamin) born in 2013.Daughter Audrey is due January 2016. https://jenniferlucas.jamberry.com, https://www.facebook.com/jenniferLucasjamberrynails/?ref=bookmarks
All
Recent Jennifer's Posts